Versatility and Specialization
It might seem like a contradiction but a good accounting firm will be able to offer their clients high levels of specialization and versatility. In other words, top accounting firms are able to offer their diverse clientele a variety of services, including accounting, audit, tax, business management and consultation services. That way, clients can work closely with their firm to resolve a variety of professional needs and concerns that go beyond merely balancing the books. A good accounting firm will also have multiple people on staff who specialize in various areas, so that clients have access to all the knowledge, expertise and professional experience they need to successfully run their businesses.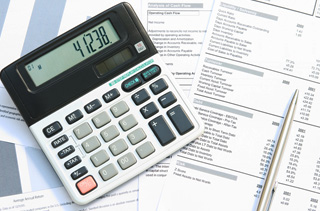 Many accounting firms staff accountants with varying degrees of accreditation in order to provide their clients with the most versatile and comprehensive services available. There are three professional accountancy distinctions, each requiring various educational requirements and denoting different areas of specialty.
Chartered accountants (CA), for example, are internationally recognized and can offer services from start-up counselling for entrepreneurs to acting as a trustee in areas like insolvency, receivership and bankruptcy.
Certified General Accountants (CGA), on the other hand, are the accounting world's "jack of all trades." They perform a wide range of duties, including tax management, assessing financial statements, and overseeing various types of accounting processes.
Certified Management Accountants (CMA) combine accounting experience with advanced business management skills and training. The majority of good accounting firms will staff all three types of accountant.
Good Accounting? Good Advice.
What makes a good accounting firm? Good advice. That is, hiring an accountant these days is no longer just about finding someone to crunch numbers. Accountants aren't just "bean counters" anymore; they are also business consultants and professional advisors. Depending on their licensing, education and credentials, accountants can advise on risk-management and business growth solutions or assess compliance issues, in addition to handling the books and filing taxes. Some can even sign financial statements on their clients' behalf.
A good accounting firm is one that invests their success in the success of its clients. In other words, good accounting firms will work closely with their clients to help them determine their business goals and devise strategies for success. That means that they will offer a wide range of advisory and consultation services. Generally speaking, good accounting firms will also offer a free one-on-one consultation meeting to prospective clients.
Smart Money
Behind every successful business is a smart accountant. But it takes smart business owners to know that hiring a good accounting firm is a key component of running a successful business. Why? Because accountants know money – how to grow it and how to keep it. Even the most independent of "self-made" entrepreneurs and business owners know the value of working with an accounting firm in order to maximize their monetary gain and minimize the risk associated with amassing capital. Money is, after all, an accountant's area of expertise.
Check the Roster
What else makes a good accounting firm? Good clients. In addition to offering good advice, good accounting firms (www.mentorplus.com/5-things-the-most-successful-accounting-firms-are-doing-to-lap-their-competition-on-the-track.html) will also have an impressive client list. Depending on the nature of the business, some accounting firms will be more suitable than others. For example, if you're in the entertainment business, you're not going to hire an accounting firm that specializes in, say, agriculture. You will, however, want to check out which entertainers or entertainment businesses an accounting firm represents before you agree to do business with them.
Every good accounting firm should be able to offer their clients transparency and clear communication. While certain information is confidential – and should be kept as such – you should be able to suss out the types of clients an accounting firm represents within minutes of meeting with a representative of the firm. You should also be able to ask clear, pointed questions and receive equally clear, pointed answers in regards to your business and your business' accounting needs.
The Right Fit?
Lastly, a good accounting firm is, quite simply, the one that's right for you. Not every firm is suitable to every business, so you'll want to do your research and shop around a bit before you settle on a firm. Part of knowing which firm to hire is knowing what your own business goals and needs are. What are you looking for in a firm? What makes a good accounting firm? A good fit.